Venues
MOSAIC HOUSE & LA LOCA, Odborů 4, 120 00 Praha 2
Our festival center for hip great accommodation in the center of the city is also the location of the
Dancing Breakfasts and Close-embrace Afterparties.
**Breakfast is included for some Mosaic House guests, depending on the room class you chose. Otherwise their 5-star breakfast buffet will be available on site for 6 euro per person.
Novoměstská radnice, Karlovo nám. 1/23, 120 00 Praha 2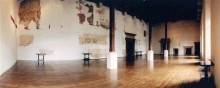 Our marathon- style  salons, day cafes, will be at the beautiful New Town hall. Built from 1377-1418, the radnice is on Prague's biggest square,  founded by emperor Charles IV as the main center of the city's New Town.
It is just 1.5 blocks from Mosaic House where most all of us will stay, so a super simple 3 minute walk away.
We danced the gold milonga here in 2011, and with the new Cafe Neustadt in the courtyard, it is a perfect place for our:
Thursday Warm up milonga & Friday & Sunday day cafes.
Lucerna- Mramorový sál, Lucerna palac, Štěpánská 61, 116 02 Praha 1
Built by ex-president Vaclav Havel's grandfather in 1921, the Lucerna Palace soon became a major centre of social and cultural life in Prague. We will dance our Saturday afternoon cafe in the elegant grandure of the marble salon, which is in the mezanine just above the famed Lucerna kino and cafe.
Národní dům na Smíchově, Náměstí 14. října 82/16, 150 00 Praha 5
The National House of Smichov is a supreme secession cultural monument of the Czech Republic, designed by Alois Jana Čenský the years 1906-8, as the landmark of the then independent city of Smichov. It is a masterpiece among the Art Nouveau constructions in Prague. Prize winning sculptor Josef Pekárka's allegory to music adorns the exterior, his large art-nouveau figures adorn the great hall, complemented by the ornamental scuptures of the interior by Antony Mara.
The large ornate first floor gala dancing hall with full circular balconies all served to make this a key gathering place and cultural center of 1920s– and with its large parquet floor is a perfect setting for tango.
This is a venue change! Národní dům na Smichově is just a 14 minute walk across the river from hotel Mosaic, and we will be here for Friday & Saturday night gala milongas!