Program
For those arriving on Wednesday, join us at Prague's iconic local open-air milonga at the vineyards at Grobovka.
Viniční altán, Havlíčkovy sady 1369, 120 00 Praha 2, from from 7:30 to 10:45 p.m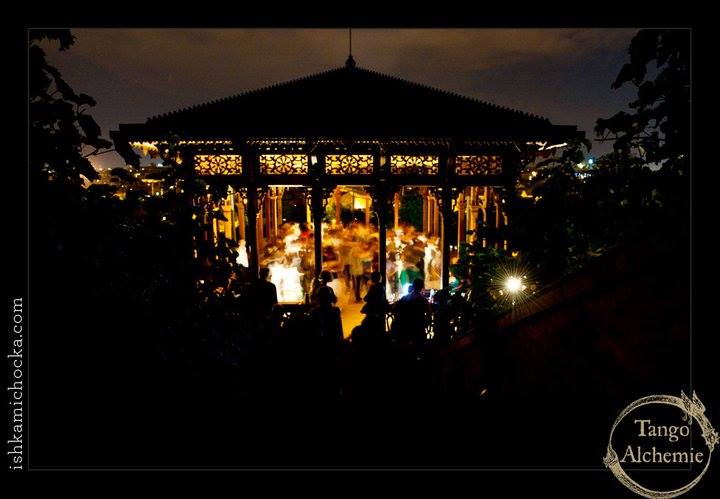 . More from the organizers
here

This year we will meet in October so we can share sweet Prague Autumn with you-
a
total tango
encounter
,- in all the ways we love to dance
Marathon-style days, Milonga nights, Close-embrace afterparties…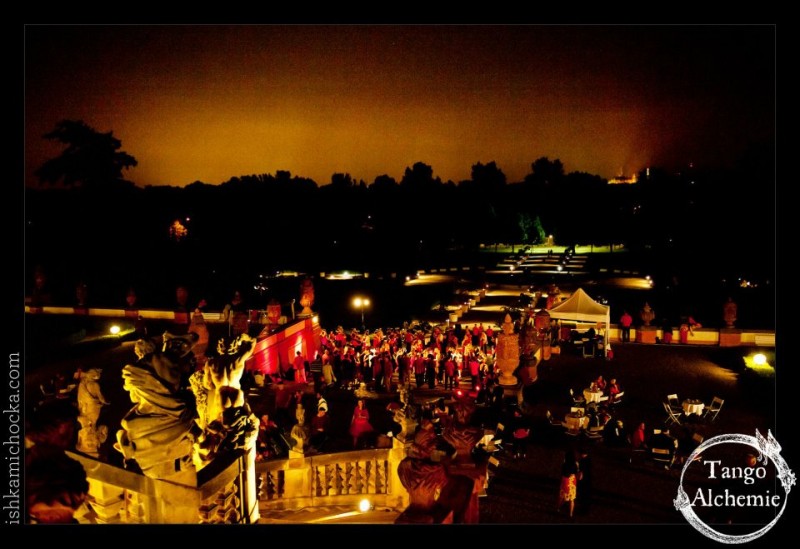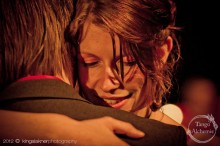 Dancing breakfasts 11:00 — 14:00
Marathon-style salons 15:00 — 19:00
Milonga nights 22:00 — 3:00
Close-embrace afterparties 3:00 — 6:00+
(After parties are close embrace, encuentro-inspired yet non-restrictive late-night salons in the cozy club inside the hotel.)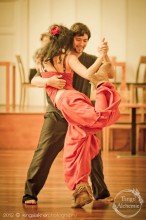 *
Dancing breakfasts & Afterparties
— in the club of Mosaic House, our central hotel.
* Accommodation — from 15 euro/person/night
* Marathon days — at the new town hall, just one block away from the hotel.
* Milongas — in gala venues such as Lucerna velky sal, all walking distance from the hotel
* Group practicas — you are invited to come, dance, and ask questions to any of the 3 couples that will be present at each to guide you will take place in La Loca club at the hotel from 14:00- 15:30 Fri, Sat, & Sun.
Entrance to the practica is 8 EUR on site, and is not included in the festival passes
Program Summary
Thursday 2.10.
Friday 3.10.
Saturday 4.10.
Sunday 5.10.
11:00–14:00
Dancing Breakfast
Dancing Breakfast
Dancing Breakfast
12:00–13:30
Open Classes
Open Classes
Open Classes
14:00-15:30
Practica La Loca
Practica La Loca
Practica La Loca
15:00-19:00
Day salon/ cafe
Day salon/ cafe
Day salon/ café ** til 21:00
Spring fling
~Colors 🙂

22:00-3:00
Winter
Warm-up
milonga
~White
Autumn
Art-nouveau
gala milonga
~Gold
Summer
the Red-hot
gala milonga
~Red
The Afterparty @
La Loca-
3:00-6:00+
 Afterparty
Afterparty
Afterparty
The afterparty continues…. ☺
Full Program
Thursday 2.10.
Friday 3.10.
Saturday 4.10.
Sunday 5.10.
Breakfast
11:00-14:00
DJ- Aljoscha
DJ- Gaia
DJ- Aljoscha
Walk-in classes
12:00-13:30
Goethe Institute
Rita & Vasco
Keep it simple, keep it beautiful (sacadas)
Matias & Claudia
Improvisation- 3 keys to improvising with ease

Matias & Claudia
Milonga!!!
Rita & Vasco, Oz & Sonja
Welcome to the world of Tango
Oz & Sonja
Dynamic dancing in close embrace
Maria & Gaia
Tanguera technique
Practica
14:00-15:30
La Loca@ Mosaic House
DJ-Aljoscha
Maria, Gaia, Leandro
DJ-Gaia
Ozgur & Sonja
Rita & Vasco
DJ-Aljoscha
Matias & Claudia
Sven & Guggi
Day salon
15:00-19:00
Novomestka Radnice
 21:00 Pre-
kick off
gathering at
Cafe Neustadt
DJ-Stefan
DJ-Jens-Ingo
DJ-Stefan/Ozgur
15:00- 19:00 Stefan
19:00- 21:00 Ozgur
Milonga
22:00-3:00
*Various, according
to the program
DJ-Jens-IngoPerformance ~~
"The seasons of being"
Duo Diamante
DJ-FrancescoPerformance ~~
"The infinite tango"Rita, Vasco, Sonja, Ozgur, Sven,
Guggi, Matias, ClaudiaLive Music: Cuarteto Caché Milonguero
DJ-Analia La RubiaPerformance ~~
"A parenthesis in eternity"Rita, Vasco, Sonja, Ozgur,Sven,
Guggi, Matias, Claudia
Afterparty
3:00-6:00+
La Loca@ Mosaic House
 DJ-Francesco
DJ- Maria
DJ- Gaia
DJ- Analia
from 22:00- 3:00