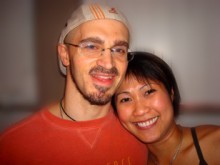 Fun, open, inspiring and deeply inviting,
Homer & Cristina bring all they are to their
masterful teaching of tango, making them one
of the most sought after and adored teaching
couples in the world.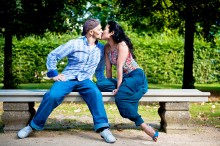 Their tango obsessions began in 1997, they met in the dance floor in 2001, and soon after they fell in love and were married."
They each bring with them over sixteen years of social dance experience emphasizing a fusion of tango ideologies via the 'one tango' philosophy.

"Few dancing couples improvise with such skill, personality, and fluidity of movement. Homer & Cristina continue to explore deeper facets of their relationship to each other and to tango."
Homer & Cristina create a lively positive class environment, helping to break down barriers that may inhibit students from really finding their own dance!
You will find many free didactic review videos on Youtube of their classes, including the TangoStudent blog complete with detailed class notes. They are currently working to develop a more thorough online learning experience via their new website: www.TheOrganicTangoSchool.org

DETAILS ON HOMER AND CRISTINA'S HEARTBEAT SESSIONS:
Sessions will be incorporate two main areas, depending on the level of the group and on dancer's individual needs.
IMMERSION – refining your walk, musicality, ochos, turns, transitions in open and close embrace, combinations, communication in the dance.
EXPLORATION – having a deeper understanding of the foundations of the dance allows us to be able to stretch the boundaries and even break the rules. We will play with and combine advanced and off axis elements in creative ways.