Venues
Friday Night
Milonga Collectivo Encuentro
20:00- 4:00
This is a great place in the 'Schoenherr-Fabrik'
a very hip industrial compound with artist studios, bars and restaurants. You can eat on the spot, or bring up food from one of the restaurants to the milonga.
The milonga space at Tanzstudio has a front chill out room with bar and cozy seating,  nice space with a great floor super atmosphere.
Schönherrstraße 8, 09113 Chemnitz
Saturday Dancing Breakfast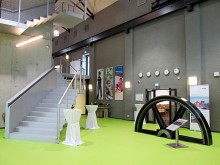 10:00- 2:00
at Hostel EINS,
our festival central
Getreidemarkt 6
Wake, eat, dance!
Saturday Hit & Run
We'll dance through the main sites of the City from Teaterplatz,
Karl-Marx kopf, and at and IN the fountain in front of City Hall.
Plenty of possibilities for food and drink along the way, and dancing in the fabulous foot-bath fountains of Chemnitz!
Saturday Gala
20:00-  21:00
Special opening concert, Long Strings, a part of the Mozart Festival, included in your ticket!
21:00- 2:00
Milonga, Solo Tango live, shows Rita & Vasco and Sonja & Ozgur, DJ Stefan OK,
in this amazing space one-time only space!
Druckhaus Freie Presse is the main printing press for the whole of Saxony.
A huge and totally unique environment, they will make a milonga and concert
oasis for us which is not to be missed!
Travel by public bus to the venue is free when you show your festival pass.
There will be a free shuttle bus from the milonga to the afterparty and hostel.
Druckhaus FREIE PRESSE
Winklhoferstraße 20, 09116 Chemnitz
Saturday Afterparty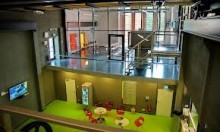 Hostel EINS
our festival central.
Come home, get cozy,
dance til you drop!
Getreidemarkt 6
Sunday Breakfast milonga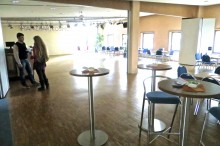 10:00- 14:00
In a great place with a fab floor, comfort and coziness for dancing, located just near the hostel! Koehler-Schimmel studio. Sweet sunny day dancing and a beautiful breakfast (free for those staying at the hostel).
Rosenhof 23
Sunday- the pilmgrimage to Carlsfeld!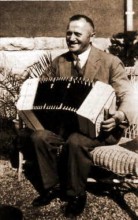 At 13:00 we will travel to Carlsfeld, about 1 hour drive from Chemnitz, for a very special excusion to the site of E.L. Arnold's factory where tango's essential bandoneon was created.
We will pay our respects at the monument of Alfred Arnold, who preserved the bandoneon of tango and exported it to Argentina and Uruguay.  We will meet an 82 year old master bandoneon who worked in the original AA factory, and a young man who is reviving hand made bandoneon making in the original E.L. Arnold factory space.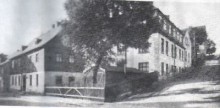 We highly recommend that all who can take this  chance to travel together and pay our respects to the men and the place who created, produced and preserved the beloved bandoneon of Argentine tango.
Note:       Transportation to Carlsfeld is not included. Please search for a tanguero-rideshare here or arrange travel by car.